Top of the line point-to-point microwave equipment manufacturer SAF Tehnika has partnered with Zabbix to provide NMS capabilities to its end customers. SAF Tehnika appreciates Zabbix's customizability, scalability, ease of template design, and SAF products integration.
Content
I. SAF Tehnika (1:14)
II. SAF point-to-point microwave systems (3:20)
III. SAF product lines (5:37)
√ Integra (5:54)
√ PhoeniX-G2 (6:41)
IV. SAF services (7:21)
V. SAF partnership with Zabbix (8:48)
√  Zabbix templates for SAF equipment (10:50)
√ Zabbix Maps view for Phoenix G2 (15:00)
VI. Zabbix services provided by SAF (17:56)
VII. Questions & Answers (20:00)
SAF Tehnika
SAF Tehnika comes from a really small country — Latvia, as well as Zabbix.
SAF Tehnika:
✓ has been around for over 20 years,
✓ has been profitable/has no debt balance sheet,
✓ is present in 130+ countries,
✓ has manufacturing facilities in the European Union,
✓ is ISO 9001 certified,
✓ is Zabbix Certified Partner since August 2020,
✓ is publicly traded on NASDAQ Riga Stock Exchange,
✓ has flexible R&D, and is able to provide custom solutions based on customer requirements.
SAF Tehnika is primarily manufacturing:
point-to-point systems,
hand-held MW spectrum analyzers,
Aranet wireless sensors and solutions.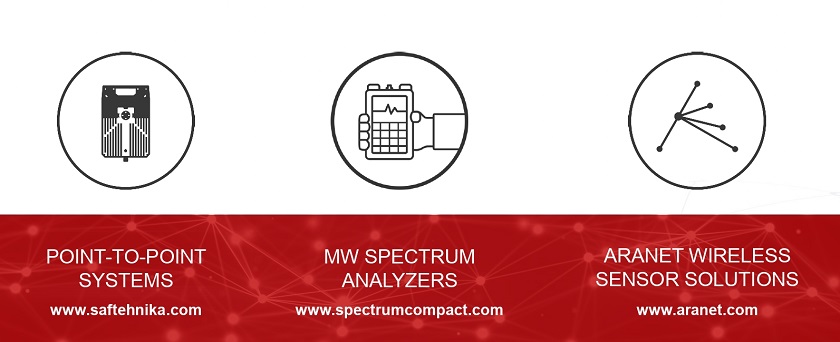 SAF Tehnika main product groups
SAF point-to-point microwave systems
Point-to-point microwave systems are an alternative to a fiber line. Instead of a fiber line, we have two radio systems with the antenna installed on two towers. The distance between those towers could be anywhere from a few km up to 50 or even 100 km. The data is transmitted from one point to another wirelessly.
SAF Tehnika point-to-point MW system technology provides:
long-distance wireless links;
free and excellent technical support;
fast & easy deployment;
The 5-year standard warranty for SAF products as SAF Tehnika ensures their top quality thanks to using high-quality materials and manufacturing reliable chipsets, as well as chamber testing of all products;
solutions for:
√ WISPs,
√ TV and broadcasting (No.1 in the USA),
√ public safety,
√ utilities & mining,
√ enterprise networks,
√ local government & military,
√ low-latency/HFT (No.1 globally).
SAF product lines
The primary PTP Microwave product series manufactured by SAF Tehnika are Integra and Phoenix G2
SAF Tehnika main radio products
Integra
Integra is a full-outdoor radio, which can be attached directly to the antenna, so there is nothing indoors besides the power supply.
Integra-E — wireless fiber solution specifically tailored for dense urban deployment:
operates in E-band range,
can achieve the throughput of up to 10 Gbps per second,
operates in 2GHz bandwidth.
Integra-X — a powerful dual-core system for network backbone deployment, incorporates two radios in a single enclosure and two modem chains allowing this system to operate with built-in 2+0 XPIC, reaching the maximum data transmission capacity of up to 2.2 gigabits per second.
PhoeniX-G2
The PhoeniX G2 product line can either be split-mount with the modem installed indoors and radio — outdoors or full-indoors solution. For instance, the broadcast market is mostly using full-indoor solutions as they prefer to have all the equipment to be indoors and then have a long elliptical line going up to the antenna. Phoenix G2 product line features native ASI transmission in parallel with the IP traffic – a crucial requirement of our broadcast customers.
SAF services
SAF has also been offering different sets of services:
✓ product training.
✓ link planning.
✓ technical support.
✓ staging and configuration — enables the customers to have all the equipment labeled and configured before it gets to the customer.
✓ FCC coordination — recently added to the SAF portfolio and offered only to the customers in the USA. This provides an opportunity to save time on link planning, FCC coordination, pre-configuration, and hardware purchase from the one-stop-shop – SAF Tehnika.
✓ Zabbix deployment and support.
SAF partnership with Zabbix
Before partnering with Zabbix, SAF Tehnika had developed its own network management system and used it for many years. Unfortunately, this software was limited to SAF products. Adding other vendors' products was a difficult and complicated process.
More and more SAF customers were inquiring about the possibility of adding other vendors' products to the network management system. That is where Zabbix came in handy, as besides monitoring SAF products, Zabbix can also monitor other vendors' products just by adding appropriate templates.
Zabbix is an open-source, advanced and robust platform with high customizability and scalability – there are virtually no limits to the number of devices Zabbix can monitor. I am confident our customers will appreciate all of these benefits and enjoy the ability to add SAF and other vendor products to the list of monitored devices.
Finally, SAF Tehnika and Zabbix are located in the same small town, so the partnership was easy and natural.
Zabbix templates for SAF equipment
Following training at Zabbix, SAF engineers obtained the certified specialist status and developed Zabbix SNMP-based templates for main product lines:
Integra-X, Integra-E, Integra-G, Integra-W, and Phoenix G2.
SAF main product line templates are available free of charge to all of SAF customers on the SAF webpage: https://www.saftehnika.com/en/downloads
(registration required).
Users proficient in Linux and familiar with Zabbix can definitely install and deploy these templates themselves. Otherwise, SAF specialists are ready to assist in the deployment and integration of Zabbix templates and tuning of the required parameters.
Zabbix dashboard for Integra X
We have an Integra-X link Zabbix dashboard shown as an example below. As Integra-X is a dual-core radio, we provide the monitoring parameters for two radios in a single enclosure.
Zabbix dashboard for Integra-X link
On the top, we display the main health parameters of the link, current received signal level, MSE or so-called noise level, the transmit power, and the IP address – a small summary of the link.
On the left, we display the parameters of the radio and the graphs for the last couple of minutes — the live graphs of the received signal level and MSE, the noise level of the RF link.
On the right, we have the same parameters for the remote side. In the middle, we have added a few parameters, which should be monitored, such as CPU load percentage, the current traffic over the link, and diagnostic parameters, such as the temperature of each of the modems.
At the bottom, we have added the alarm widget. In this example, the alarm of too low received signal level is shown. These alarms are also colored by their severity: red alarms are for disaster-level issues, blue alarms — for information.
From this dashboard, the customers are able to estimate the current status of the link and any issues that have appeared in the past. Note that Zabbix graphs can be easily customized to display the widgets or graphs of customer choice.
Zabbix Maps view for Phoenix G2
Zabbix Maps view for Phoenix G2 1+1 system
In the map, our full-indoor Phoenix G2 system is displayed in duplicate, as this is a 1+1 protected link. Each of the IDU,  ASI module, and radio module is protected by the second respective module.
Zabbix allows for naming each of these modules and for monitoring every module's performance individually. In this example, the ASI module is colored in red as one of the ASI ports has lost the connection, while the radio unit's red color shows that the received signal is lower than expected.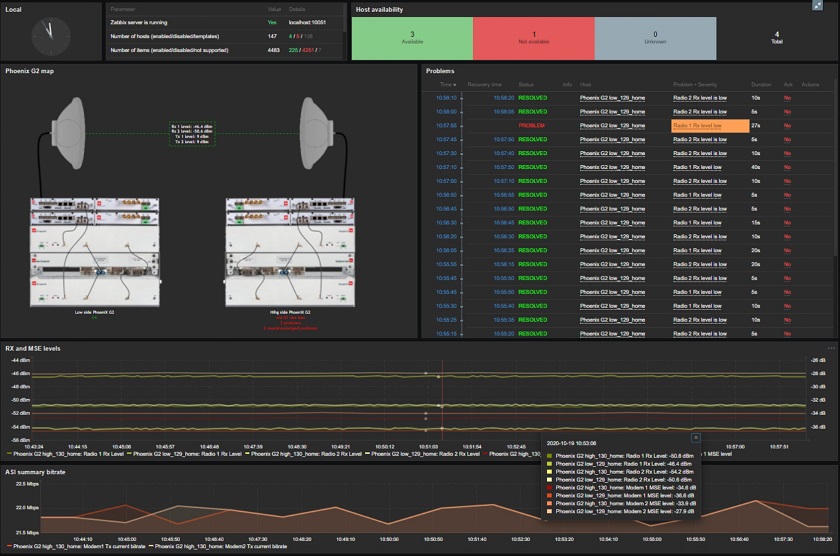 Zabbix dashboard for Phoenix G2 1+1 system
Besides the maps view, the dashboard for Phoenix G2 1+1 system shows the historical data like alarm log and graphs. The data in red indicates that an issue hasn't been cleared yet. The data in green – an issue was resolved, for instance, a low signal level was restored after going down for a short period of time.
In the middle we see a summary graph of all four radios' performance — two on the local side and two on the remote side. Here, we are monitoring the most important parameters — the received signal level and MSE i.e., the noise level.
The graph at the bottom is important for broadcast customers as the majority of them transmit ASI traffic besides Ethernet and IP traffic. Here they're able to monitor how much traffic was going through this link in the past.
Zabbix services provided by SAF
Since SAF Tehnika has experienced Zabbix-certified specialists, who have developed these multiple templates, we are ready to provide Zabbix-related services to our end customers, such as:
Zabbix deployment on other customer's machine, integration and configuration of all the parameters, and fine-tuning according to our customers' requirements.
consulting services and provide technical support on an annual contract basis.
NOTE. SAF Zabbix support services are limited to SAF products.
SAF Tehnika is ready and eager to provide Zabbix related services to our customers. If you already have a SAF network and would be willing to integrate it into Zabbix or plan to deploy a new SAF network integrated with Zabbix, you can contact our offices.
SAF contact details
Questions & Answers
Question. You told us that you provide Zabbix for your customers and create templates to pass to them, and so on. But do you use Zabbix in your own environment, for instance, in your offices, to monitor your own infrastructure?
Answer. SAF has been using Zabbix for almost 10 years and we use it to monitor our internal infrastructure. Currently, SAF has three separate Zabbix networks: one for SAF IT system monitoring, the other for Kubernetes system monitoring (Aranet Cloud services), and a separate Zabbix server for testing purposes, where we are able to test SAF equipment as well as experiment with Zabbix server deployments, templates, etc.
Question. You have passed the specialist courses. Do you have any plans on becoming certified professionals?
Answer. Our specialists are definitely interested in Zabbix certified professionals' courses. We will make the decision about that based on the revenue Zabbix will bring us and interest of our customers.
Question. You have already provided a couple of templates for Zabbix and for your customers. Do you have any interesting templates you are working on? Do you have plans to create or upgrade some existing templates?
Answer. So far, we have released the templates for the main product lines — Integra and Phoenix G2. We have a few product lines that are are more specialized, such as low-latency products and some older products, such as CFIP Lumina. In case any of our customers are interested in integrating these older products or low-latency products, we might create more templates.
Question. Do you plan to refine the templates to make them a part of the Zabbix out-of-the-box solution?
Answer. If Zabbix is going to approve our templates to make them a part of the out-of-the-box solution, it will benefit our customers in using and monitoring our products. We'll be delighted to provide the templates for this purpose.