For the 5th time in a row, Zabbix has participated in Interop Tokyo – the biggest network computing expo in Japan. This year, the event has welcomed around 143 000 visitors in total, breaking its own record of 140 000 attendees from the last year. An impressive and well-structured conference inspired everyone with its scale, professionalism and innovative approach.
Zabbix Japan Team introduced new appliance, revealed future plans and celebrated 5 years of steady and successful growth of Zabbix office in Tokyo. Let's enjoy the moments we shared!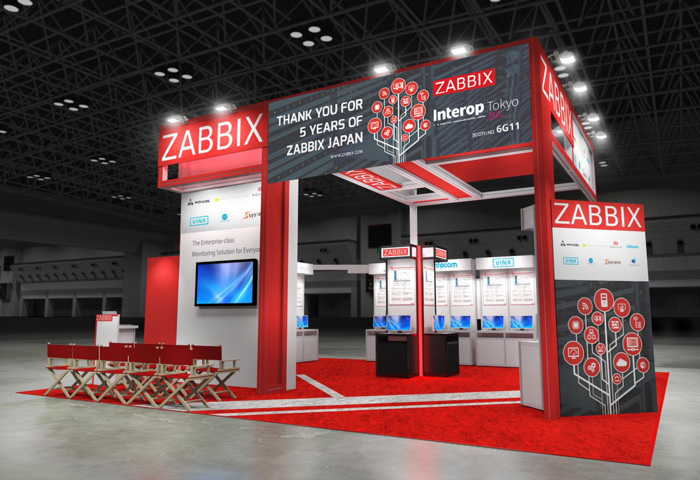 Interop Tokyo is placed among the most leading IT expos in the world, the whole infrastructure of which was fully monitored by Zabbix! Servers, storage, network switches, PDU and ESXi/VM on VMware and much more.
We presented various case studies, partner solutions and the future plans of Zabbix. All in all, we have communicated with 5,000 visitors throughout the whole event, boosting the number by 1000 compared to Interop Tokyo 2016.
Alexei Vladishev, Zabbix founder and CEO, gave an insight on the forthcoming Zabbix 3.4 as well as overall Zabbix success in the Japanese market. There were multiple presentations from Kodai Terashima, Zabbix Japan CEO, and Zabbix partners, showcasing Zabbix capabilities in monitoring clusters, AWS, SNMP traps and more.
Meet our new Zabbixer! Super cute and highly intelligent, can talk about Zabbix 24×7. Yes, on the right.
This year we doubled on the amount of prizes received! Proud of The Best of ShowNet Award for Zabbix 3.2 and semi-grand prix for Zabbix Enterprise Appliance ZS-7300, available for the Japanese market.
Thank you for all the nice words and congratulations, we have the best community!
The more you tweeted, the more giveaways you got!
Thank you our honored partners for your support and activities at the stand!
Thank you for your passion and commitment! We'll see you all next year – let's try to break our own records!