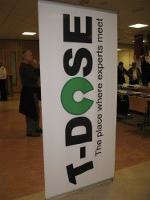 The opensource conference T-DOSE in Eindhoven, Netherlands took place a bit more than a week ago. It provided good coverage of different subjects, including KVM, Devops, Open GIS, puppet and lots more. And, of course, Zabbix.

There were many interesting talks on all kinds of different topics – mostly on opensource software, of course. The event started slow, picking up the speed as it went. Here, this Tux isn't yet able to breathe freely (but he was liberated later).
Zabbix talk included general overview of what Zabbix is for newcomers, hurdles in development process (and overcoming them), as well as look at upcoming Zabbix features in next version.
The discussion after the Zabbix talk stressed the importance of feature complete, extensive and stable API. Of course, a well documented one. With documentation slowly appearing and API maturing, it is hoped to reach that state soon enough.
In addition to the talks, there were also several booths – if you were in T-DOSE, hopefully you discovered lots of interesting things. For example, if you hadn't been overtaken by the mapping frenzy yet, OpenStreetMap materials and information should have taught you about ways to contribute to or use world's (probably) most complete map ever.
OpenStreetMap has a good quality map for Netherlands, as shown by some printed maps – and there's also great coverage of Eindhoven as well.
And there were some more things around there, including a Free Software Foundation Europe stand with all kinds of goodies.
Oh, and given that this is the 5th T-DOSE – sort of an anniversary – a new logo for it was created, which can also be seen on these mugs here:
No, it's not the second T-DOSE, actually, it says "2010" 🙂
The main thing to bring back from T-DOSE – it's by and for the people who get things done, even though they also like to talk about things being done a couple of times a year. It's always nice to see problems solved quickly with tools at hand.
As a finishing touch, there's some reference to the local version of your favourite political party.
Bye, T-DOSE, see you later.