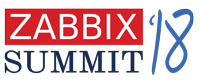 In a month and a half we will meet you at the biggest Zabbix event, happening for the 8th year in a row, and from now on called – Zabbix Summit 2018.
You will witness practical examples of what Zabbix is capable of, gain hands-on experience through workshops run by the Zabbix Team, and have a chance to get Zabbix certified. Only 4 weeks left to register!
To give you a small preview on the agenda that awaits you, we are offering you insights in the minds of people stepping on the stage of our event and sharing their vision, experience and knowledge.
Today we would like to present Lukas Macura, a Network and Cyber Security Expert and Open-Source "extremist", as he calls himself. He is a CTO at the Foresight CyberTM, where Zabbix is an integral part of the company's internally built Foresight Cyber Platform, delivering cyber security managed services to company's clients.

Pre-Summit Interview with Lukas Macura
What kind of industry do you represent? Tell us about you and your company. How did you get started, and what choices led you to where you are now?

 
Our company works in a cyber security industry. One would not see cyber security as a vertical, rather it cuts through all industry verticals horizontally. Established in 2009, Foresight Cyber brings together industry-renowned experts, leading technologies, and on-premise and cloud services to solve the increasing Cyber Security, Risk and Compliance challenges organizations face today.  Our hard-won cyber security experience, competency and technical skills have been the key in forming close partnerships with industry-leading cyber security vendors.  
I have joined the company at the end of 2016 as a CTO. My role is to design and run cyber security services for our clients.  
Tell us a bit about your projects and how they are related to Zabbix? 

What kind of challenges you have encountered and what kind of solutions were found.

 
We use Zabbix for many purposes. These include monitoring of our internal processes, applications and servers, and inventory management of our assets. Furthermore, we have found Zabbix very useful as an auxiliary tool to help us in application management of Skybox, Qualys and other cyber security tools, where we monitor the health of these applications.
And finally, as I will be showcasing, we now use Zabbix to monitor blockchain for intensecoin (soon to be Lethena) for health, availability and blockchain attacks. I believe this is the first public use case where Zabbix is used to monitor the blockchain. See for yourselves, click the link.
How did you choose Zabbix to be your monitoring solution, and what about Zabbix impresses you the most? 

Have you already tested the alpha versions of Zabbix 4.0?

 
Zabbix choice has been my first choice, almost subconscious. ? I have been using Zabbix for a long time. Zabbix brings well database-driven design and is fully configurable. We have not yet toyed with Zabbix 4.0, but I am sure we will enjoy its new features and will migrate as soon as possible.  
What is your history with Zabbix Conferences, and could you tell us your motivation for becoming a speaker at the Zabbix Summit 2018?

 
I have attended several past Zabbix conferences and I have always enjoyed the inspiring content, energizing atmosphere and inspiring people. My primary motivation was to meet people behind the project again and be part of the community. Now I am also eager to share our substantial knowledge of blockchain monitoring. We only become great as a sharing community, not isolated individuals.  
What would be the key message of your presentation, and what do you want attendees to learn from your talk?
Running blockchain projects is like running a business. However, there are intricacies of blockchain that may not be apparent to IT admins. I will explain the basics of blockchain, relevant to monitoring, and showcase our approach of using Zabbix to monitor the health of Lethean blockchain. 
What do you expect from the Zabbix Summit? What are the main advantages for you to join this event?
As always, to meet nice people again and exchange the latest experiences of using this famous Open-Source software! 
What topics do you look forward to discussing with the Zabbix community, attendees and Zabbix Team?
Discussing and influencing the roadmap, where we have few suggested improvements, such as GUI and mobile device rendering, as well as exploring new features. 
______________________
We look forward to learning about securing and monitoring blockchain systems with Zabbix.
Only four weeks are left to register, so we encourage you to act now and join the biggest Zabbix event of the year, to explore Zabbix from different angles, get Zabbix certified by passing the Zabbix exam, and meet Zabbix Team and worldwide community!