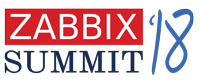 Little over a month is left until we will meet you at the biggest Zabbix event – Zabbix Summit 2018.
This year we have put together a very diverse agenda, and with only 2 weeks left to register, we encourage you to get acquainted with our speakers to find out about their speeches and ideas, and decide on why you really should join the Zabbix Summit this year.
Today we would like to present Wolfgang Alper, a true Zabbix expert and CEO at IntelliTrend GmbH. At the Zabbix Summit, Wolfgang will talk about Zabbix power in the field of IoT.

Pre-Summit Interview with Wolfgang Alper
What kind of industry do you represent? Tell us about you and your company. How did you get started, and what choices led you to where you are now?

 
I am the CEO of IntelliTrend GmbH, a German IT-Service company specialized in network infrastructure, virtualization and network monitoring. Personally, i started with IT in 1990. When working for 3COM as a product manager in the area of VoIP, i had the first contact with network monitoring systems and was impressed and fascinated about the large scale deployments to monitor all of the carriers equipment.
Later when founding IntelliTrend GmbH, the idea was that especially in the context of virtualization (and nowadays in cloud environments) not only very big companies like carriers would need a monitoring of their IT-infrastructure, but also the smaller ones. Thus, network monitoring would become a business need in general.
Tell us a bit about your projects and how they are related to Zabbix? 

What kind of challenges you have encountered and what kind of solutions were found.

 
Basically we have two types of projects: IT-Infrastructure projects and monitoring projects. Infrastructure projects are typically targeting small and medium sized companies. The ongoing learning of their needs and the understanding of the business of their IT-Administrators give us deep insights about the requirements in the area of managed network- and service-orientated monitoring.
Talking about the network monitoring projects, our customers are typically medium to large enterprises, usually running 50k + devices. Here we focus on Zabbix and provide consultancy, support, training and integration/development services. We have been involved in Zabbix installations up to 100k+ devices with 900k+ items and 800k+ triggers per single Zabbix instance running various Zabbix proxies distributed across different countries.
One of the big challenges in these monitoring project are nice looking dashboards, especially for management – everybody wants dashboards but no one wants to build them 🙂
In some cases, because the infrastructure allowed us to do it, we have been able to provide automatically generated maps with the help of the Zabbix API.
How did you choose Zabbix to be your monitoring solution, and what about Zabbix impresses you the most? 

Have you already tested the alpha versions of Zabbix 4.0?

 
When I made my choice in 2004, I had looked into various monitoring solutions before. Zabbix convinced me because it was a complete package including data storage, agents and web frontend. It was using the concept of trigger functions, thus giving flexibility out of the box. The software was very stable, the source code was well written and the entire website including the forum was in a good shape. Still I do not regret that decision.
Being a Zabbix Certified Trainer, of course I tested the alpha versions of Zabbix 4.0. Larger companies tend to stick with the current LTS versions which is 3.0. I am sure users will appreciate the new features like the universal dashboard or changes made to accessibility, next to event tags and event correlation or pre-processing in the upcoming LTS version 4.0. We already have projects for this in place.
What is your history with Zabbix Conferences, and could you tell us your motivation for becoming a speaker at the Zabbix Summit 2018?

 
I started joining the Zabbix Conferences around 2012. It is a good place to meet a lot of great people sharing the same passion and learn about their ideas. This year I decided to become a speaker, because I am convinced that Zabbix is a great tool to work in the area of IoT and I hope that our experience is valuable or at least interesting for others.
What would be the key message of your presentation, and what do you want attendees to learn from your talk?
The key message is simple – Zabbix is a great tool to work with the "Internet Of Things" and can handle such data very well.
I want the attendees to get an idea about IoT, the way of communication between a device and a backend and how Zabbix fits into this role.
Also I would like to give a starting point for building a simple but useful device themselves, that can work with Zabbix out of the box.
What do you expect from the Zabbix Summit? What are the main advantages for you to join this event?
I expect good talks and inspiration for new ideas. On top of this I really look forward meeting people I have not met a while ago and have a drink with them in a great atmosphere during an after the event.
What topics do you look forward to discussing with the Zabbix community, attendees and Zabbix Team?
I am interested in the Zabbix roadmap, the new Zabbix cloud offering and ideas about the future of the Zabbix solution.
______________________
We look forward to learning and witnessing the Zabbix capabilities in IoT.
Only 2 weeks are left to register, so we encourage you to act now and join the biggest Zabbix event of the year. You will discover practical examples of what Zabbix is capable of, gain hands-on experience through workshops run by the Zabbix Team, and have a chance to get Zabbix certified.
Read the previous article about Zabbix monitoring blockchain systems, in the series of Zabbix Summit 2018 speaker interviews.